Blog — Mermaid Themed Ideas
• Girl Themed Ideas • Mermaid Themed Ideas
Let's dive into the sea with this Lovely PASTEL MERMAID Party Ideas shared by a very creative and talented Mommy from Australia. HIGHLIGHTS: Underwater world setup Large Seashell photo backdrop for guests Personalized hand lettered guest name cards Kids zoo for entertainment   Vendors Styling & Planning & Props - Upside Down Events (www.upsidedownevents.com.au ;  www.instagram.com/upsidedownevents) Photography - Perfect Moment Photography (www.perfectmoment.net.au ; www.instagram.com/perfectmomentweddings) Animals - Kidz Zoo http://www.kidzzoo.com.au                            VISIT OUR PARTY SHOP   BE PART OF OUR COMMUNITY and be the first in receiving SPECIAL DISCOUNTS, Party Ideas, and GIVEAWAYS.  Subscribe to our (blog):  www.handyandclassy.com Facebook Page:...
---
• Girl Themed Ideas • Mermaid Themed Ideas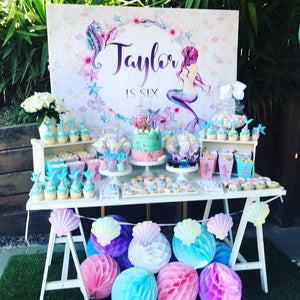 Explore the magical underwater world with all the sunning details of this Mermaid Themed Birthday Party by Peony Pepper Events and Styling from Ormeau, Queensland, Australia.   Highlights:  The gorgeous printables and party food ideas   TIP(S) from Peony Pepper Events and Styling and Creative Mom: My little girl just adores mermaids and couldn't wait to have a mermaid party but she desperately wanted a mermaid in the design not just a tail so it was tricky to find just the right design but once I did it was so easy and fun to style !!The colour scheme was so whimsical and fabulous fun to style !The party was...